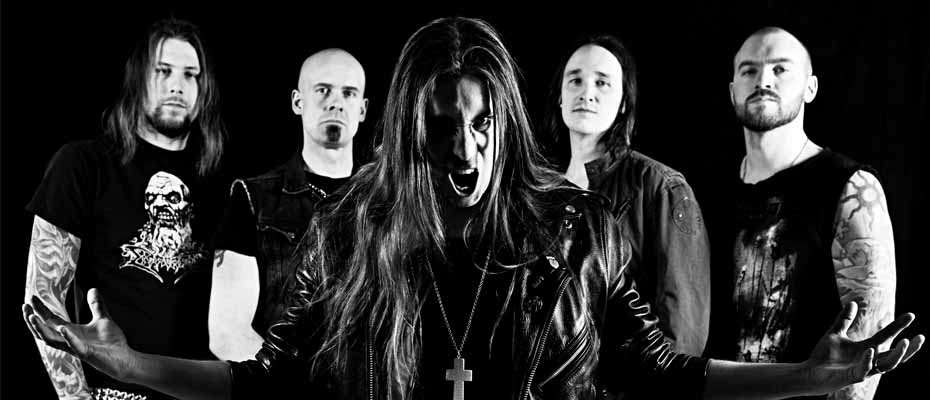 Below
Biography
In the fall of 2011, Below was formed in Sweden by three wicked minds. After a discussion about why doom bands of today either lacked melodies or tried to sound as retro as possible, they decided to start a doom band that would pay tribute to epic and dark sound of: Nightfall by Candlemass, Headless Cross by Black Sabbath and Conspiracy by King Diamond.
The original three wicked minds pitched the idea to two other sinful souls, who immediately understood what Below was going to be about and with no hesitation, joined the band.
Below started writing songs and in November of 2012 and a 4-track EP was recorded at Deep Blue Studios in Sweden. By this time, Tobiee of Howlin Owl Productions heard of the band and asked to act as manager for the band. The EP was sent to various magazines, labels and people in the business and was praised by everybody who gave the songs a listen. Metal Hammer Germany awarded the EP a 9/10 rating.
With only one, unreleased EP, the band was able to book a 10 day tour through Denmark, Holland and Germany as opening act for Devil from Norway. The final show of that tour was the Hammer Of Doom festival in Germany.
Eventually, the EP landed in the hands of Metal Blade Records, who saw the band's potential and offered them a deal.
Below recorded their debut album early fall of 2013 at Andy LaRocque's (King Diamond) Sonic Train Studios. The full length will be released during 2014 through Metal Blade Records. Below offered up the following comment on recording: "To have the opportunity to work with Andy La Rocque and Olof in Sonic Train Studios is amazing. It will be a truly epic album that will leave its mark in the history of doom."
Producer and legendary King Diamond guitarist Andy La Rocque added; "This is one of the heaviest bands I have worked with in the studio for a very long time, and the sounds so far is amazing! And always great to work with great musicians!"